This is long over due but I managed to find a little time to post about Jonah 1/2 a year old....
Finally sitting up on his own! He had been sitting up when we would prop him up but he is now sitting himself up. I love going into his room after his nap and finding his little head poking up over the crib, I can't see his mouth but I can tell he is smiling...then the squeel follows.
Super hugable, super sweet, such a good baby. Haven't heard that before have you?
Loves eating solids finally, some of his favorites are mashed up avacado's, banannas, carrots and baby yogurt. I am trying to make all his baby food I think we will start on more green food next week.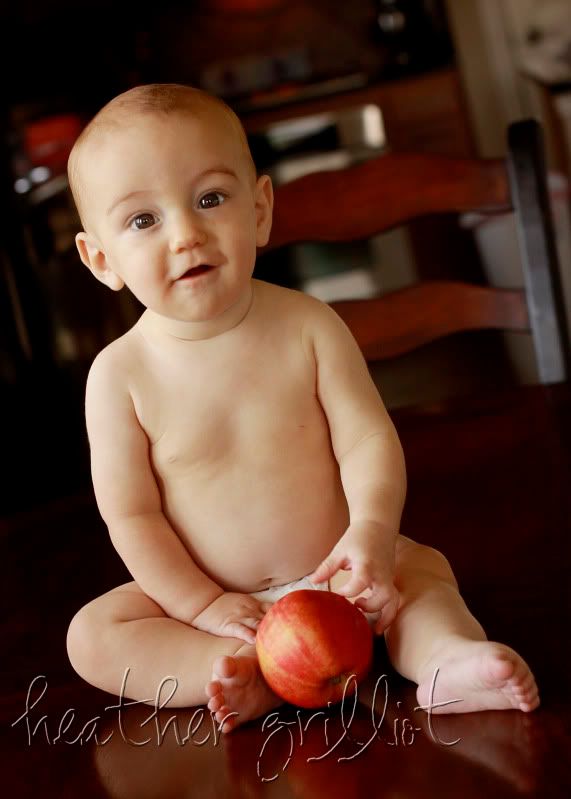 Definately enjoys riding on Daddy's shoulders, he cracks up while smacking the top of Harry's head. Still thinks his brothers are pretty cool too, he is so funny the way he laughs at them. Has not got into too much trouble eating the boy's toys, which was a big concern for Logan.
He has the crawling thing almost down, he rocks back and fourth on all fours and is reaching out with one hand but just has not put lets and arms into motion...just yet.
Sleeping through the night still but sleeps with me for an hour or two in the morning since he wakes up to eat around 6, it is still nice to have him to snuggle with.