Yup sure did! This is a once in about 5 years kind of thing. It started snowing on the way to school this morning and after dropping of the kids I stopped at the grocery store, when I got out the temp had dropped another 10 degrees. Now I'm sure all you northerners have no worries about driving in the snow. Me on the other hand? I worry about all the other drivers on the road so I headed back up to school and checked the boys out for the day. This does not happen often so we headed home and have been playing in our winter wonderland all day.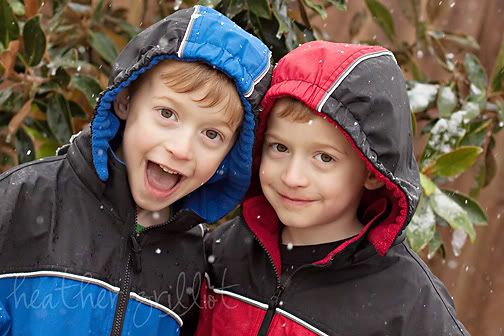 They were so excited they could not be stopped.
This went something like this...

Me: "Logan stop!!!"

Logan: "Bbbwwwaaa Haha ha ha ha ha"

Me: "Logan don't you throw that at me..."

Logan: "Ha Ha ha hahahahahahaha!"

Me: "LOGAN my camera!!" Oh cripes he is gonna hit me with that...

So I ran


The rest of the afternoon went much like that. I have more pictures to share and ofcourse of our AWESOME snowman...stay tuned!