I have always been blessed my whole life to have amazing friends. Many friends fit into our lives in various different times when we need them. I am so happy to say that I have a handful of amazing women in my life (and one amazing man in particular). Some I am related to and others I thank God he blessed me with their friendship because my life would not be complete without them.
and if you are really, really lucky like I am you will be gifted with an amazing forever friend...a definite Best Friend Forever.
This is my BFF Amy,
Right now, I know she freaking out that I am posting this. (Isn't she beautiful?!?) She is not one to take the spotlight, ever. She is an amazing supporter of her friends and family. Amy has always been there for me throughout my life. In fact I joke that we were friends before I was ever born. My mom ran a daycare in our home, Amy was one of the children that my mom cared for while she was pregnant with me. Our families became very close...so close in fact that our moms decided since they did not have a sister of their own they would adopt each other as sisters. I grew up thinking Amy was my cousin!
We vacationed together as kids..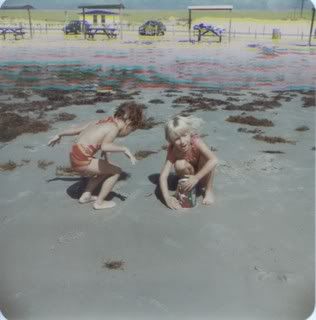 and really bonded together as teenagers, we were always having sleepovers, sharing clothes, giving each other makeovers and we always seemed to find something to giggle about.
That is the best, laughing with Amy...and everything in my world is right again.
We have been there for each other in good times and in bad. She probably knows me better than anyone else does and she still loves me anyway.
You are the most amazing friend I could ever have hoped for.
I am glad you have always been and will be in my life, I love you Amy!