Phew! Over two thousand miles, too many fast food joints to mention, all sorts of weather, happy but overly tired twin boys and a happy bouncing yet sometimes screaming baby. We made it to and from Kansas on our annual visit....although technically we did not go last year or the year before due to pregnancy and sick kids. We had a week chalked full of cousins, friends, Grandparents, Great Grandparents, Aunts and Uncles and a partridge in a pear tree...ok, wrong time of the year but I did get to see some cool owls~ I think my photo total came out to about 1800 photos in all, but I did have the great opportunity to do two different shoots which brought that tally up. The best way for me to share is to give you all a little every day. I am still editing but have got a good chunk of it done already.
We stopped on the way up to the farm for this shot (whats another 30 minutes to 17 hours straight through?) This was a windmill farm in some little town in Oklahoma. The sun was setting and it started to rain on me but I really could care less, I knew on the way up I wanted to stop here. We were however being watched by a state trooper who ended up following us to the state border, just to make sure these Texan's would not start trouble I guess.
We packed for summer, shorts, sandals, its June you know. Nobody told us it would be 47 degrees when we arrived in Syaracuse. Harry came with me early on Monday morning to get some shots of different stuff around the farm, we froze. No complaints from me though, it was 104 upon our return to Houston, You Kansan's have NO idea how lucky you are...oh and if you ever complain about your humidity again I will insist you come down to check out ours so you won't mistaken beautiful weather for the steam bath we live in.
More cows, cows are afraid of me, they did not like my camera either. I tried to explain that it was really cool and could take amazing pictures. They turned and just walked away. Cows are rude. I did think it was funny how these two cows were hanging out, especially since their tag number sequence was in order!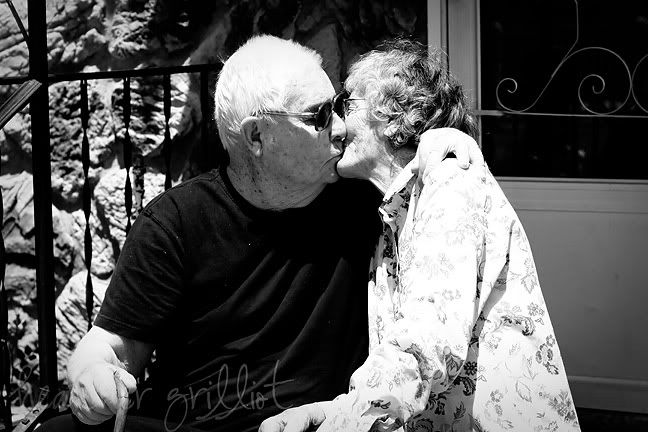 This is Harry's Grandparents, I love to think of how two people falling in love so long ago could create such a huge family that continues to grow, within one year there will be seven babies born, how many great grandchildren does that make now? I pretty much lost count at three.
Speaking of great grandchildren, here is Logan on Grandpa's tractor...
and Jonah in the tire of the same tractor...
I was able to talk Harry's uncle into bringing a tractor around so that he could have a photo with his grandkids, this was taken in Harry's parents front yard...no way that could fit in my front yard, I think the tractor is bigger than our house!
I have lots more to come and some neat previews for those of you that are patiently waiting from our little mini sessions...I can't wait to show you!!!